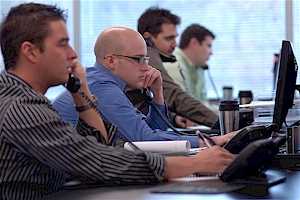 Circle 8 Logistics Opens New Corporate Headquarters - "We've challenged ourselves to double the size of our customer base over the next 24 to 36 months…"

LOMBARD, IL -- As part of an aggressive growth strategy to double in size over the next 24 months, Circle 8 Logistics, a provider of third-party transportation management services nationwide, announced that it has moved its corporate headquarters to new, state-of-the-art facilities in Lombard, IL.

Circle 8 plans to increase its staff by 65% over the next six months, according to Mike Lewis, president of sales. "We've challenged ourselves to double the size of our customer base over the next 24 to 36 months," Lewis said. "To achieve that, we needed to upgrade our sales and training areas, and create room to grow."

Located in the western suburbs of Chicago, the new 7500 sq./ft. offices feature a dedicated classroom for training and on-boarding new sales associates. The main brokerage floor -- where the Circle 8 staff buys and sells freight and shipping services for customers and carriers -- is also integrated into a break area dominated by leather easy chairs and a wall full of flat screen TVs. The latest news from the worlds of business, financial markets and sports flash continuously.

"At Circle 8, we believe that your personal life is actually the most important thing about your job," Lewis explained. "So if you have a good time at work, your personal life will probably be better outside, which means you'll probably want to come into work and work harder."

Lewis' partner and president of operations, Ryan Phillips, added that the "fun" vibe and camaraderie fostered by the floor plan is felt by their customers. "There's a distinct difference between doing business with Circle 8 and other freight brokerages," Phillips explained. "We like to think we have more fun, day in and day out, than the other guys. And that shows up in our relationships with our customers.

"But it goes beyond that," Phillips added. "We operate on a very high ethical basis that's cornerstoned by being open and honest. In every transaction, every situation. We make their world -- the customers' experience when they do business with Circle 8 -- very clear, very black and white. And they like that clarity, that honesty."

The company's performance during its first decade in business bears out that claim. Circle 8 has grown, on average, by double digits, year over year, for each of its first ten years, while maintaining margins and profits, and retaining customers and employees. That includes the past three years of economic turmoil. Last year, gross sales were up 30 percent. By the end of 2011, personnel growth will have increased 100 percent over the past 18 months.

"With our new facility, we're pushing even harder to broaden our base of customers and industries served," Lewis added. "It's going to be interesting to see how we do, especially in relatively better economic conditions than we've all experienced over the past few years."

About

Circle 8 Logistics (www.circle8logistics.com) is a non-asset-based third-party logistics and transportation services company that provides multi-modal transportation and logistics services throughout North America. Privately held, the company focuses on employee retention, honesty and efficiency to create a streamlined environment to better partner with its customers and carriers.

For more information contact:

Steve Dickman
Vice President, Sales and Marketing
800-518-4287
sdickman@circle8logistics.com
www.circle8logistics.com

John Arends
Chief Engagement Officer
ARENDS
515 N. River Street, Suite 101
Batavia, IL 60510
p: 630-482-9800
f: 630-482-9833
e: john.arends@arends-inc.com
w: www.arends-inc.com

Submitted by: LogisticsWorld
news@logisticsworld.com, 4/16/2011 11:41:23 PM
LogisticsWorld

DIRECTORY
Transportation
Logistics
Freight
Employment
Trucking
Software
Consulting
Warehousing
Supply Chain
Import / Export
Technology
Manufacturing
Services
Travel / Tourism
Trade / Finance
Business / Mgmt
Educational
Govt / Military
International
TOOLS

Airlines
Airports / Airport Codes
Seaports / Seaport Codes
U.S. Customs Brokers
Transport / Logistics Acronyms
NAICS and SIC Codes
Harmonized Tariff Schedule
Country Profiles
World Time Zones
World Time Clock
ISO 3166 Country Codes
ISO 4217 Currency Codes
FIPS Country Codes
U.S. Government Links
Software Links
Lean, Six Sigma Links
Travel Destinations
Hot Links
Books and Publications
Weights and Measures
more tools...
GEOSEARCH
Asia | Africa | Europe | Oceania
North America | South America