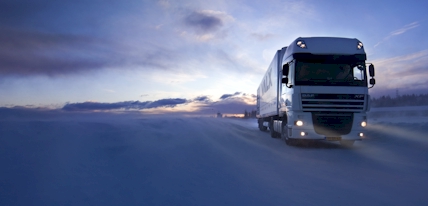 VALX Gains Type '0' Approval for Trailers with Disk and Drum Brake Axles - A number of trailer builders in Europe have also ordered the first 3-axle sets to test the new VALX products.

Following the German TüV type approval of the different brake systems, VALX has now also gained European type '0' approval for complete vehicles fitted with both the 22.5" disk- and 420 x 180 drum brake axles.

The type '0' certificates for trailers fitted with the respective VALX axles were gained at the RDW (type approval authority for the Netherlands) test facility in Lelystad, under the supervision of several other European authorities. Representatives from TüV South and TüV North (Germany), RDW (Netherlands), Idiada (Spain) and UTAC (France) concluded that the VALX axles comply with all European type approval requirements for semi-trailers with different axle configurations. The 19.5" disk-brake axle and 360 x 200 drum-brake axle will also be subjected to the same test procedure in the near future.

First orders

VALX has now delivered its first orders to customers including System Trailers in Germany and the Dutch trailer builder Groenewegen, the latter intended for Koopman Logistics Group. A number of trailer builders in Europe have also ordered the first 3-axle sets to test the new VALX products. Furthermore, VALX is at an advanced stage in its partnership with the Spanish trailer builder LeciTrailer.

Expansion of the service network

Toscon Trailer Servicecenters has been added to the VALX European service network. With these 9 additional workshops in the Netherlands, this represents a further step in completing the VALX service network. Toscon has a reputation for its expertise and experience in trailer maintenance and repair.

TOSCON is brand-independent, and offers an extensive range of services including APK (periodical vehicle testing) and LPK (periodical tail-lift testing), service for temperature-control equipment and bodies, damage repair and pick up and return service.

Toscon will provide VALX end-users with both maintenance and repair services and spare parts from stock. All branches offer a 24 hour service for emergencies.



Trade Fair

VALX will be exhibiting at the Carrosserie Vakdagen (Trade Fair for the Truck, Semi-trailer and Body industry) in Hardenberg, from 29 to 31 March 2011. The VALX axle range will be presented in Hall 6, following the company's presence at the IAA in Hanover (September 2010).

Stocks

Series production of the VALX axles is now in full swing, and containers have now arrived in the Netherlands for final assembly of the various components. Stocks will be built up further in the coming months to enable the company to meet its aim of delivering the standard axle range from stock.



Information

For more information contact:

Carla van Santvoort
Marketing, Communications and Account Manager

VALX bv
P.O. Box 2
5550 AA Valkenswaard
www.valx.eu
tel.: 0031 (0) 40 2088444
email: carla.van.santvoort@valx.eu

VALX is subsidized by the Ministry of Economic Affairs / SenterNovem, Brabant Province, SRE and Limburg Province, The Netherlands

Carla van Santvoort
Marketing, Communications- & Account Manager

VALX B.V.
Postbus 2 5550 AA Valkenswaard NL

Mob: +31 612296590
Tel: +31 402088644
Fax: +31 402079868

Email: carla.van.santvoort@valx.eu
Skype: carla.van.santvoort.valx
www.valx.eu


Submitted by: LogisticsWorld
news@logisticsworld.com, 2/20/2011 7:46:15 AM
LogisticsWorld

DIRECTORY
Transportation
Logistics
Freight
Employment
Trucking
Software
Consulting
Warehousing
Supply Chain
Import / Export
Technology
Manufacturing
Services
Travel / Tourism
Trade / Finance
Business / Mgmt
Educational
Govt / Military
International
TOOLS

Airlines
Airports / Airport Codes
Seaports / Seaport Codes
U.S. Customs Brokers
Transport / Logistics Acronyms
NAICS and SIC Codes
Harmonized Tariff Schedule
Country Profiles
World Time Zones
World Time Clock
ISO 3166 Country Codes
ISO 4217 Currency Codes
FIPS Country Codes
U.S. Government Links
Software Links
Lean, Six Sigma Links
Travel Destinations
Hot Links
Books and Publications
Weights and Measures
more tools...
GEOSEARCH
Asia | Africa | Europe | Oceania
North America | South America